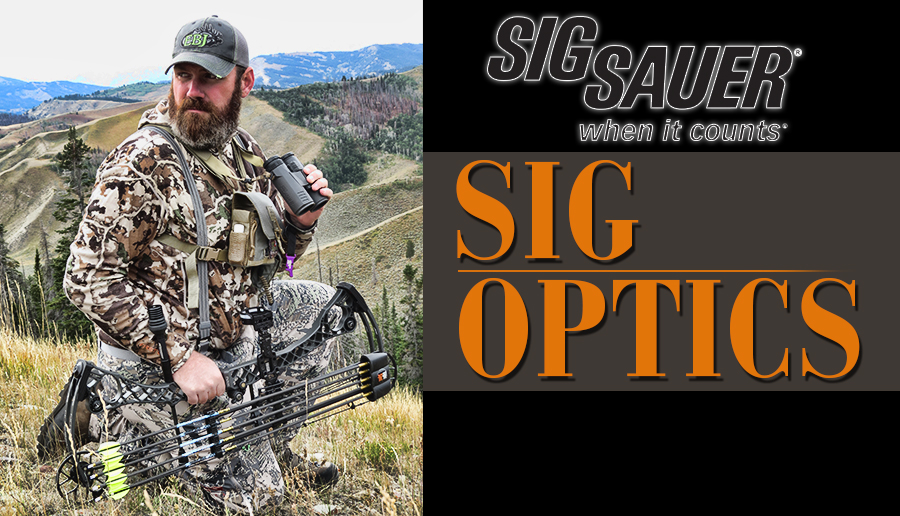 Okay, so where did these guys come from? I mean really, SIG SAUER is a well-known and respected brand when it comes to firearms and tactical products but quality optics is a new one for them. I will admit, I was a bit skeptical at first with SIG being so heavy in the tactical world but I trust the name and man did they deliver – big time!
I just got back from a backcountry archery mule deer hunt in western Wyoming and I strapped their Kilo 1600 rangefinder and Zulu 5 10×42 binoculars to my chest and set off. I was more than impressed with the performance of both and in fact, my new favorite rangefinder is the Kilo and I will explain why.
It's obvious when you first hold the Kilo that there was a lot of time and thought placed into the design. The menu and range buttons are placed in intuitive spots for ease of use but not so easy as to accidentally engage. The texture on the housing is reminiscent of their handgun grips. It's extremely comfortable and doesn't slip when your fingers are numb or wet from rain. The robust design also sports a knurled diopter adjustment making focus a breeze. The overall feel of the unit speaks to SIG's rugged, tactical history but that is very appealing to hunters out West, as we are known to be hard on gear.
Its 7x magnification makes ranging distant targets more than easy and the Lightwave DSP technology is the fastest and most powerful engine out there. The speed of getting a reading is what was most apparent to me. Literally, as fast as I could get on target and push the button I had my yardage, there was zero delay. If you so choose, the HyperScan mode provides four range updates per second, giving you the most accurate reading of a moving or stationary target, even at extreme range.
The Kilo 2000 can range reflective targets in HyperScan mode as far as 3,400 yards, trees up to 1,500 yards and animals up to 1,200 yards! That's simply amazing in the world of rangefinders. I was able to range a reflective target with the Kilo 1600 at 1,740 yards, that's only 20 yards short of a mile.
You can also program the Kilo to read back Line Of Sight (LOS) giving you a true distance, or you can select the Angle Modified Range (AMR) that gives you a shoot-to distance and compensates for your shot angle.
Another nice feature that I really liked was the Lumatic OLED display. This display type has the largest dynamic range to match any condition from bright sunlight and snow to the darkest dusk hours in deep timber when the big boys step out. The internal ambient light sensor samples external light conditions and automatically adjusts the brightness of the display so you're never caught off guard by an incoming trophy, no matter the light conditions.
The Zulu binoculars were equally as impressive. I immediately noticed how lightweight they were for a 10×42 platform. The eyecups are very comfortable, the focus knob is effortless to find and operate, and this binocular is also tripod mount compatible.
The HD glass and SHR phase coated BAK4 prisms give an impressively clear field of view from edge to edge. I had no problem in the early morning hours picking out mule deer on distant ridges.
The lenses sport LENSARMOR coatings to resist abrasion and the housing has STEALTH ID rubber armor to protect your investment in rugged terrain. They are also nitrogen filled for fogproof and waterproof performance.
There's more to these fantastic units than I can get into here but be sure to check them both out the next chance you get. To say I am extremely impressed by the new SIG Kilo rangefinders and Zulu binoculars is right on the mark. I can safely say they will both be on my chest this fall!