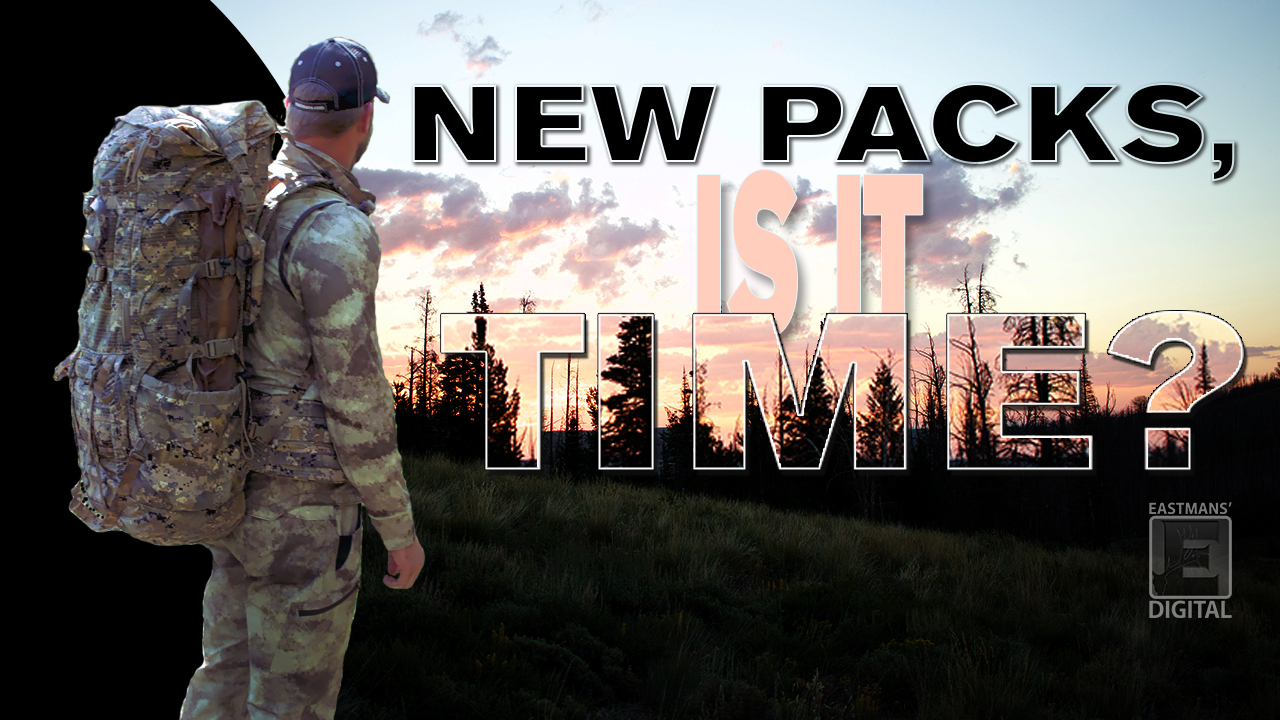 This year I had the pleasure of tackling a pack review for our 13th issue. Three to five day packs are the ones that I use and abuse the most because my falls are incredibly busy, and like most of you it is tough to be gone longer than that. With busy schedules in mind we wanted to make sure that all of our followers on social media will have the chance to receive the 13th issue. So, to receive this issue you will need to be a subscriber to the Eastmans' E-News. You can do that below.

With all that said we wanted to give you a taste of the pack review that will be in this issue.
If we are honest with ourselves the most used pack in our arsenal is of the mid range variety. A pack that you can stuff full of three to five days worth of gear in and head out for the long weekend hunt or the entire work week if we are lucky enough to have that much time. So what does one of these packs look like? They will be anywhere from 3500 to 6200 cubic inches, have functional shoulder lift for the big guys and can be used to haul out a lot of weight!
So buckle in, adjust your load and let's take these packs for a spin to see if one will fit the bill for your high country adventure this fall!
For 2016 Eberlestock has come out with their Big Top Series, The Little Big Top, which is compatible with the F1 Mainframe and it's big brother the Big Top built on it's own frame. If you are familiar with Eberlestock this would be a very close cousin to the Battleship or Destroyer models.
The Big Top fits the three to five day range bill with 6100 cubic inches to fill up and functional shoulder lift from the two articulated metal stays that run the height of the back. True to Eberlestock design the belt is made from mesh material laid over the top of the pad that their belts are known for. The lumbar pad is cushy and fits well working with the stays to keep weight placed firmly on the hips making heavier loads more comfortable.
The bag itself has two main compartments, one designed for a sleeping bag on bottom and a large main compartment on top. The top area can be accessed by a panel loader or from the roll top opening at the top of the pack. The bottom section has two water bottle pockets that also carry spotting scopes and tripods very well. Inside of the main pocket there are two internal linear pockets, which are great for holding things like a Jetboil or a spotting scope if you prefer to keep it inside the pack.
To hold all of the gear in place eight horizontal compression straps keep everything secure while hiking. If you are looking for a pack that is a great workhorse, take a serious look at the Big Top.
FOR THE FULL REVIEW CLICK HERE
Other Packs In The Review:
The questions I have for all of you are, is your pack on the list? What features do you think are most important in a three to five day pack? Is it time for you to upgrade?