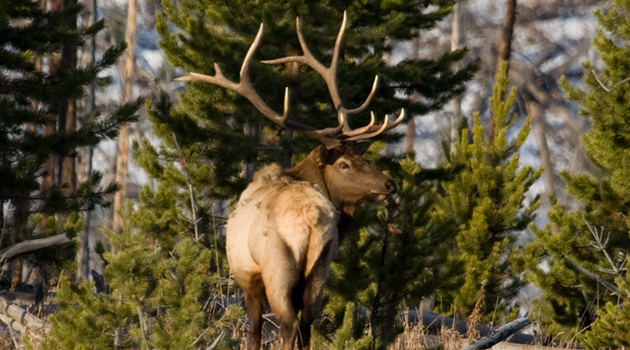 Over the past twenty years, Montana's elk population has seen quite the shift from large declines in the western part of the state to large population increases in the central and eastern part of the state. Here lies the problem. The western part of the state is largely public land. The central and eastern parts of the state are mostly private land. This makes managing elk populations very difficult. Montana has yet to find a solution that works where everyone is happy. The revised elk management plan in 2017 greatly lowered elk population objectives for the state largely because of the shift of population centers of elk and landowner tolerance of them. Management objectives are down in the 90,000s state wide, a huge decrease from past objectives for the state of Montana. Herd counts for the state are estimated to be 136,000 which is down from highs of 176,000 in 2017.  
The political climate in Montana has shifted this past election cycle and there has been more and more talk and push for landowner tags and more landowner privilege for managing elk on private property. This is where some very debatable topics have come up, like protecting the public land hunter and preventing hunting in Montana from becoming a "rich man's sport" while also keeping landowners happy with having elk on their property. A large portion of landowners won't allow public access to shoot elk for free. There has been some horse trading going on in this state which is sending management down the direction of landowner tags like Colorado and Utah. A high-profile ranch owned by the Wilkes Brothers has been the spotlight of some of the first landowner tag allocations. The new statute will allow landowners to get free elk tags but will require them to also allow some public hunters to access their property and shoot elk. Talks on the specifics fizzled in prior months so we are yet to know exact details of what will happen. The Wilkes have let up to 300 cow hunters in the past access and harvest cow elk but there is no access for hunting bulls. 
Time will tell what develops but the debate will continue. Is Montana headed down the path of Utah and Colorado with re-salable landowner tags or should the Block Management Program be revamped or other deals be made with landowners? Should landowners be given a bigger incentive from the state to let public hunters on to harvest elk that they are complaining about? 
Source:
https://billingsgazette.com/news/state-and-regional/managing-montanas-elk-wealth-is-causing-heartburn-for-landowners-fwp-and-hunters/article_0fff5315-4b72-5b85-9bb8-a99d85f68601.html?utm_medium=social&utm_source=email&utm_campaign=user-share