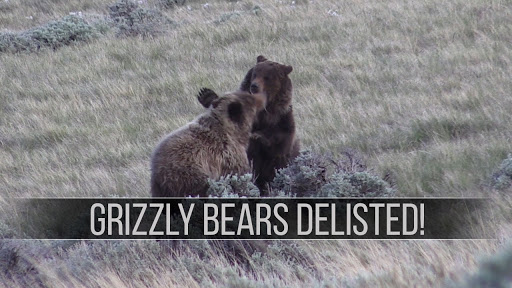 As a lifelong Wyoming resident I am thrilled to hear that we are finally going to be able to manage grizzly bears. I am under no illusion that we won't see many lawsuits similar to what we faced for many years with the transplanted wolf population. The biggest difference in the two predator recovery stories is that the Yellowstone grizzly bear population has come back over the course of time through careful management.
The state of Wyoming has pushed hard for delisting and Governor Matt Mead's office put out this press release:
Governor Mead Hails Decision to Delist Yellowstone Grizzly Bears
CHEYENNE, Wyo. – The US Fish and Wildlife Service (FWS) announced today that grizzly bears in the Greater Yellowstone Ecosystem (GYE) have sufficiently recovered and will be returned to state management. There are approximately 700 bears in the GYE which includes Wyoming, Montana and Idaho. Governor Matt Mead praised the decision.
"Grizzly bears have met or exceeded recovery objectives since 2003 and have long warranted delisting. In 2013, I asked Secretary Salazar to delist the grizzly bears and much work toward this end has been done. I appreciate that the FWS is proceeding now with the delisting," Governor Mead said. "The Interagency Grizzly Bear Study Team, which includes the FWS and Wyoming Game and Fish, must be commended for its years of great work. Thanks to the team effort, grizzlies will be managed appropriately by our experts at Game and Fish. I thank all involved in the delisting effort."
A brief history follows. In 2007, the FWS delisted grizzly bears in the GYE. A federal judge reinstated protections in 2009 after finding that the FWS did not adequately consider the impacts of the decline of whitebark pine nuts – a grizzly bear food source. In 2013, the Interagency Grizzly Bear Study Team determined that the reduction in whitebark pine nuts did not significantly impact grizzly bears and again recommended delisting. In March 2016, the FWS published a draft rule to delist grizzly bears in the GYE. States gave additional assurance regarding long-term viability. Wyoming has adopted a Grizzly Bear Management Plan outlining how management will occur after the bears are delisted. That document is available on the Game and Fish website.
Stay tuned for more details from Guy in a future blog to follow up many of the articles covering predator delisting he has written on this blog. He was away this week on the Eastmans' Elevated Podcast tour and I'm really excited to share all of the episodes the team recorded.
More Media Links:
Stay tuned for our thoughts on the delisting in an upcoming E-News! SIGN UP HERE!