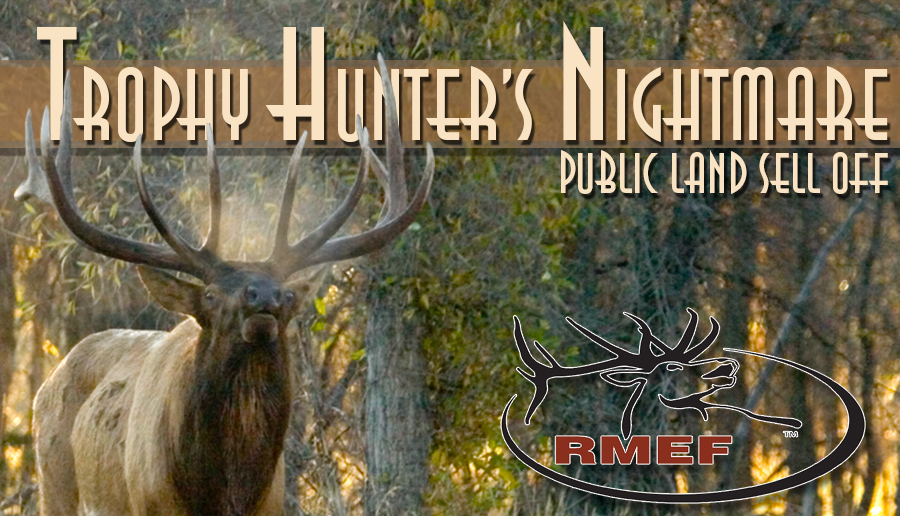 Much has been made of the "Public Land Transfer" debate this political season by both sides of the political spectrum in the last 12-18 months. There are so many reasons the transfer is a bad idea, I can't list them all in the space I am allowed. It is curious to me why practically no one is addressing the real issues creating this debate. It is as if neither side wants to face the responsibility of addressing, let alone fixing the core issues for fear of the political fallout.
Specifically, public land and forest management are the core, root issues. Changing ownership, thus changing management authority over our public lands from federal to state governments doesn't really address the problems or solutions. I know it sounds good to many of us to take an anti-federal government stance and there are certainly issues with how federal land agencies go about managing public lands. However, merely calling for another form of government to assume these duties because that government is "more local" in nature is not enough.
Multiple times we have asked for any kind of "business plan" framework from those who call for states to takeover public land management; to date none has been provided. How are states going to actually take on additional management of millions of acres of public lands? What new resources are states going to need and most of all at what additional costs? Who pays for these new costs (I bet I know, got a mirror?!!!). Do people actually think the federal government is giving us money back for this concept? When was the last time that happened?
The biggest concern of all in this regard is why have these questions not been addressed for the public in this debate? It is as if transfer of public lands will just be some kind of magical, smooth transition from federal to state and things will improve. This is not how one runs a business, especially a billion dollar business.
Let's look at a couple of key public land management issues. There is an extreme element of environmentalists who want little to no use allowed of our public lands. They execute their agenda with exaggerated rhetoric, slanted science and heavy use of lawsuits to stall and delay any proactive management policies. No one from either side of the political aisle seems willing to address this factor or promote legislation to bring this into balance with common sense use of public land resources. It should be part of Congress' job but neither party wants to tackle it.
There is an element of staff at some levels (not all but many) of our federal land agencies that do not subscribe to common sense; multiple use of public lands either. It seems they would prefer public lands were substantially restricted to limited use, more like a giant national park. As this philosophy grows within government agencies (federal and/or states) sportsmen will continue to lose access, recreation opportunities and eventually major pieces of our hunting/fishing culture. We need to reach a point where as a society we decide to allow a hunting and fishing culture to thrive (or not) and if so, what are the terms and conditions that we all will live by? This slow chipping away at the American wildlife system will reach critical mass from where it will crash. Is that what we want? And yes, this does involve our public lands. The sportsmen and women of America are being played.
How many of us stop to consider how a group like the HSUS (and others) will react if states like California, Oregon, Washington and Colorado (I could list others) take control of 100% of the public lands in those states? How long before ballot initiatives are calling for the abolishment of hunting and fishing? Sounds far-fetched to you? That threat is so real is turns my stomach. You cannot camp on state lands in NM and Wyoming now. You cannot hunt on most of Colorado's state lands now; do you want to include all public lands in these states? I don't.
Sportsmen and women must come together for the sake of this way of life or we are going to lose it. We have to stop buying into these political shell games (played by both parties) that divert our attention. Transferring ownership of public lands in and of itself solves little to nothing; actually it makes public lands one-step closer to becoming private lands. Additionally, allowing the environmental extremists to set the agenda is not working either.
Both political parties have much work to do on our behalf, so we call on both sides to get together and fix this problem. We will become like Europe in terms of wildlife and outdoor recreation if both parties don't do their job. We need courage to call for real solutions from both Republicans and Democrats; stop letting them use us in their games. And ALL sportsmen's groups should stop running interference for the political machines, it isn't helping either. We as citizens need to get together and demand answers, demand results. Never forget, "a government by the people, for the people…."
-M. David Allen, President and CEO