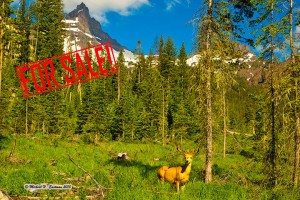 Public land and the Rocky Mountain West are tied together. When hunters from the East think of coming West their first question is often, "How hard is it to plan my own hunt on public land?" The tone in Washington D.C. has started to change in the last few years and the federal government is thinking in short term dollar figures rather than common sense in some areas. A recently proposed budget has passed the House and would sell off large portions of public land to the highest bidder. Why in the world would we want to sell one of the most valuable commodities inside our borders?
It seems that as a whole we tend to spend more than we take in. Finding cash now to pay for immediate "needs" rather than long-term goals is the rising trend on both sides of the aisle in Washington.
So let me see if I can get this straight. We have made the process so hard to get logging permits* for federal land that we would rather sell it outright for development than have a solid revenue stream in the timber industry? Last time I checked a place called China needs building materials, but let's borrow money from them instead of selling them its materials. It makes total sense.
Most of us have hunted in old clear-cuts that have been reclaimed and I would be hard pressed to find a hunter who hasn't found big game animals there. New, vibrant pine trees aren't as susceptible to beetle kill or the fires that we spend ridiculous amounts of money fighting every year.
By a bureaucrat's handbook that makes the most fiscal sense because they would have money to spend now for a pet project rather than money over time to do something logical. Something logical like, say whittling down our national debt with a vibrant economy from multiple revenue streams or fix the infrastructure that we hear so much about during election seasons.
Let's get some facts straight about what land will be sold too. It won't be ugly places where game doesn't spend much time. It will be winter ground where deer and elk go to survive the harshest seasons.
The land is only valuable to two groups of people. Developers and mineral seekers, neither of which are going to preserve game for future generations if too much is developed. Sure many people work hard in the oil and mineral industry and we are grateful to you for keeping our lights on and our cars running. Many people in those industries are hunters too and we can't hunt, mine and drill everywhere at the same time. Sure, those areas are reclaimed but if we mine it all at the same time, we haven't even started to see a decline in mule deer populations!
Reaction to this has been varied; some states want the federal land back under their control. In my opinion this is not a good solution either, as it will likely produce the same results when the states find out how expensive it is to manage large swaths of federal land.
The key will always be managing properly for the future for all parties involved. Maybe our representatives in D.C. will get a clue that we don't want our western heritage to die for their greed.
-Guy Eastman
*Oregon's rules are cited to show just how much regulation is in place in one state alone.
Want more great Eastmans' Content? Subscribe now HERE.