I finally found what I have been searching for the past two years for. I just wish it was made by a hunting company. But there is hope…more on that later.
As a firm believer in wool base layers I have been searching high and low for a good high quality wool t-shirt to wear on my backcountry excursions as my "against-the-skin" baselayer top. This would go underneath my FirstLite Merino Wool long-sleave baselayer. I'm a huge believer in wool. Cotton is too cold, stinks bad, and dries extremely slow, while the high performance synthetics dry fairly fast, but are uncomfortably cold, not very soft and once they get a good stench brewing you cannot get it out even after a good hard washing. I always thought a good high quality merino wool base t-shirt would be the perfect solution. And I finally found one, at Sierra Trading Post of all places and on sale to boot. A company called Icebreaker builds high quality merino wool performance gear for outdoor athletes. As a part of their performance line is an entire line of high quality t-shirts built to perform. These shirts fit fairly tight so they don't wrinkle up underneath your other layers particularly when adding and removing layers over the top of them. They make them in two different weights, a superfine-150 and a superfine-200.
In my opinion, the wool baselayer gives the hunter/backpacker the best of all worlds, warmth even when wet, good odor resistance even after multiple days of continuous use, soft comfort, dries very quickly once wet, and extremely breathable even in hot weather. The Icebreaker garments are built with the highest quality merino wool on the planet from sheep raised in New Zealand. The cut is very athletic and they even make an ultra-high performance t-shirt (the GT version) with venting (mesh) on the back and under the arms. You can even get online and punch in a special code from the tag of your particular shirt and it will show you the actual "sheep station" (ranch)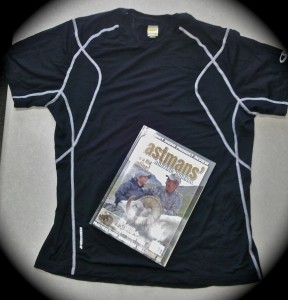 in New Zealand where the wool for your shirt came from. This shirt is perfect for my backpacking excursions in the early fall when the weather is hot and dry.
I put my shirt to the test and wore it for five straight days, day and night without any mention from my girlfriend or co-workers about heavy odor. I also drenched one in the sink, rung it out and hung it in the wind at 58 degrees. The shirt became totally dry in less than 45 minutes with a cool steady breeze. Based on this, I suspect that under normal hunting conditions in early September no matter how much you managed to sweat in this thing, it would be dry in less than 20 minutes with a slight breeze in the sun, and all while maintaining a reasonably odor free garment.
The Icebreaker, Tech-T Light is sure to be just the ticket for my baselayer top this fall. This t-shirt is the type of high quality base that I have been searching for. A shirt that can be worn day and night for five long days in comfort while trekking the backcountry in search of big bucks and bulls.
The entire Icebreaker line of clothing can be found at: www.icebreaker.com. Beware, these shirts are far from cheap. A simple ultra lightweight merino wool t-shirt will run you in excess of $60.00 on the site, but if you do some research online you might find one for much less. I got mine at Sierra for less than $30.00.
Rumor has it that the guys over at FirstLite, a hunting friendly company are also developing a short sleeve T-shirt for the "against the skin" application as well, possibly in time for the fall hunting season. The FirstLite merino products can be found online at: www.firstlite.com and at Linton Outdoors, www.lintonoutdoors.com. I can't wait to check out their new products later this season.
-Guy