As we all know having one piece of gear that performs in 100% of the conditions we face, though a great dream, is an impossible request. Sitka is no stranger to western hunters and they also recognize that there's not one garment that will do it all. Their solution to this situation is simple. Provide a top-tier, comprehensive layering system so that you can tailor your clothing to your particular hunting needs.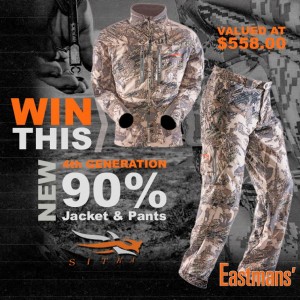 One part of the Sitka system is the 90% Jacket and 90% Pants. I've worn the 90% system for the last two seasons and never felt a need for anything more. I hunted mule deer in the arid badlands in October and January elk in the high mountains of western Wyoming when it was -12 degrees and blowing hard – really hard. I layered up with their merino base layers and was comfortable in both situations.
All that said, I have the third generation 90% series and am more than impressed with it's ability to shed wind and light moisture all while keeping my core warm. Needless to say, I was very excited to try the new fourth generation 90% clothing, as it boasts a new fabric that is three times more wind-resistant. Combine that with body-mapped microgrid fleece, and you have an unbeatable combination of warmth and wind protection that western big-game hunters need.
Also of note, is the weight of the garments. They're noticeably lighter than previous generations. Lighter and warmer, a combination that's hard to wrap my head around but so be it in my experience. An added benefit of the lighter fabric and gridded fleece pattern is increased flexibility, meaning less fatigue over the duration of your hunt. Who doesn't want more energy to pack out their trophy?
So the name 90% begs the question – if this system works for your hunting needs 90% of the time, what's the 10% that it doesn't? Fair enough.
In my experience that 10% lies in the early season. It can be a little too warm in late August through September hunts for low country mule deer and pronghorn. For those situations I would look to lighter weight Sitka offerings for the most comfort. With the right base layers, I would go so far as to say this is a 99% system for me.
In the end, if you decide this is the gear for you, head into the field this fall with 100% confidence, knowing that your 90% system has you covered from mid to late season in any environment.
For a chance to win the new 90% series click HERE!