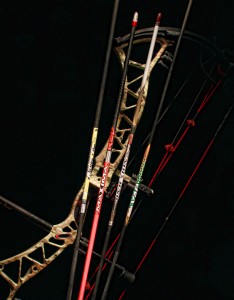 You wouldn't believe how hard it is to buy a new dozen arrows anymore! From all types of different constructions and materials to the latest technologies, gone are the days of option A vs. option B. It seems as though if you want to know the latest and greatest, as well as what people are liking the most, you've got to have an Archer's Consumer Reports in front of you…well, consider us your Consumer Report.
We've gone out into the market and gained extensive knowledge on what we consider the top four western hunting arrows and are here to report just what we've found. Sure they may be a little pricier than the other stuff on the shelf, but heck, if you'll spend $2,000 on a pair of binos to "find" the animal, why wouldn't you put the same amount of attention into the piece of gear that ultimately "kills" it?
So, we've taken what we consider the best of the best, and given you a short synopsis of the arrow. If you want to know a little more about each or all, you'll want to check out the May/June issue of EBJ. In it, you'll find an entire six pages dedicated to this topic that's full of useful information that will no doubt help you in your decision-making process.
Victory VAP – If you're after extreme FOC (Front Of Center) in an arrow, this is your ticket. Ultrathin diameter combines with heavy FOC percentages to create a penetrating machine. Our test arrow we built had an FOC of 13.1%…almost double all the other arrows we tested.
Gold Tip Kinetic Pro – Another arrow geared toward penetration with their insert system. It's actually quite genius in our humble opinion. You can add weight to the back of the insert via a threaded weight system and adjust your FOC accordingly – pretty cool. Also, these arrows are just downright tough and feel like they could take a beating.
Carbon Express Maxima RED – The relative newcomer to the western market, the Maxima RED looks to redefine arrow accuracy. They've developed this arrow with so much technology and thought that it's honestly too much to list here. If you think you understand arrow flight, you may want to check these out and see what they've done…cool is an understatement.
Easton Injexion A/C – If you're into the latest and greatest when it comes to technology, look no further than the Injexion A/C. Not only are these alloy/carbon arrows tough, but they boast Easton's Deep Six technology. Penetration and durability are the focus and these arrows do just that – and quite well we must add.
So there you have it, the short version of what we all talked about in this most recent EBJ (May/June issue 77). Make sure you check out a copy today to get the full inside scoop on these arrows and how they stacked up against each other in an FOC comparison.