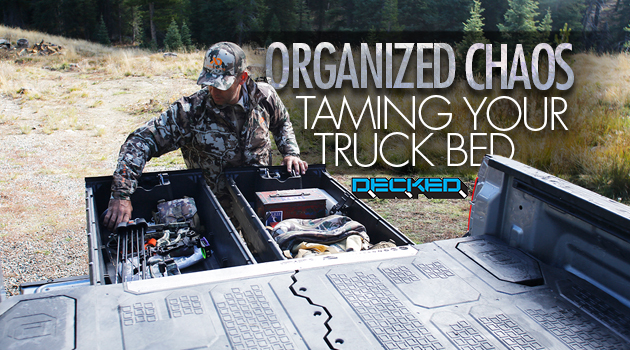 One of the bigger challenges coming into hunting season is dialing in your truck to carry all of your bags, packs, guns/bows, tents, kitchen kits, etc which can easily become an overwhelming exercise in organization. This is why the DECKED system might be worth a look.
The DECKED truck bed drawer storage system www.decked.com was developed to solve the problem we all face of constantly dealing with critical gear that needs a place to live or at least be easily accessible and organized, none of which is that easy with a pickup truck. Since our trucks typically have to serve as a daily driver, work vehicle and weekend hunting rig, the juggling of loads can be a real hassle to say the least.
Think of DECKED as a gear locker with full payload capacity in the bed of your truck. In other words, its design allows the hunter to store and organize their essential tools and gear in full bed-length sliding drawers secured under a 2000lb payload deck- the same payload as your ½ ton pickup.  The payload of the DECKED system allows the user to load heavy items like ATV's, motorcycles, big coolers and the like just as you would normally in the bed of your truck, and still have access to the gear stored in the drawers below.  The drawers are rated to carry 200lbs each and the entire system weight comes in at about 220lbs depending on the length of your bed and therefore, the system.
The design is weatherproof so your essentials are out of the elements allowing you to clear up space in your cab and have everything slide out at waist height when you open the tailgate. The added bonus of organizing your truck with a product like DECKED is that as you use your truck for the variety situations life presents, you can still have that gear you need right there at your fingertips.  DECKED sits below the bedrail of your truck and is not obvious unless you look in the bed which we like because of the added stealth this provides hiding often expensive items. The drawers also come with add-ons like locks if you prefer another layer of security.
DECKED is made in the USA, with manufacturing in Ohio, using injection molded High Density Polyethylene (HDPE) with an in-mold steel sub-frame. HDPE is the same stuff you find in your sprinkler control box in your yard, utility boxes on lot corners or knock down crates and palettes. In other words, it's a totally bombproof material that is impervious to the elements and UV exposure. DECKED is actually made using recycled HDPE and recycled steel in all of their components. This combined with the fact it is American made will make you feel like your money was well spent both from a product quality standpoint and sustainability perspective.
DECKED www.decked.com truck bed storage systems are available for nearly all full size trucks manufactured since the late 1990's:  Ford F150, Ford F250, Ford 350, Chevrolet Silverado, GMC Sierra, Toyota Tundra, Dodge RAM 1500, 2500, 3500 and Nissan Titan.  It will also be available for midsize trucks like Tacoma's, Colorado/Canyon's and Frontiers later in the fall of 2017.