Some of the best trophy elk hunting is in Idaho, Montana and Wyoming where a large population of grizzlies roam. In some units you will find only a small population of grizzlies, and the chance of running into one is slim. However, in other units the bear count is high, and you will see several during a backcountry hunt. Make sure you talk to the game warden in your unit about the regulations on bear-proofing your camp. Also, ask him where these "humpies" have been spotted. Having a few tips for hunting and living in bear country might help keep you out of harm's way.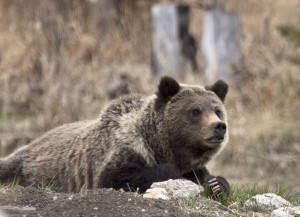 Tips:
If you do have to leave an elk until the next day, some simple precautions will help to make sure your elk is still intact. First, when dressing out the bull, make sure to pull the pouch down the hill far away as possible from the elk body – the first thing some grizzlies eat is the stomach. Second, don't quarter up the bull until you're ready to pack it out. Bears will drag off a quarter into the brush with no problem and cover it up with dirt, but he can't move a whole bull elk. Third, if you want to mount the bull, cape him right away, then hang the cape, skull, and antlers up high in a pine tree. Fourth, make sure to pile pine boughs over the freshly killed elk. This will help to keep ravens and other birds from getting into it.
Most importantly, when you show up the next day to pack out the elk, observe the carcass at a distance. A dead give-away that a humpy is working on the carcass is pine boughs scattered off the carcass. These precautions in packing out an elk I learned firsthand hunting in heavy grizzly country.
I recommend watching a very good DVD, Staying Safe in Bear Country. It has a lot of good information, but the best part is that you hear a grizzly doing his "I'm tougher than you" growl and watch his false charges. This will give you an idea of what an encounter with a humpy looks like. The Forest Service and Wyoming Game and Fish also have spot-on information on how to camp and hunt in grizzly country. I highly recommend those publications. My advice is to do what they recommend; it will help keep you from ending up cross-wise with a grizzly many miles from the trail head. Be safe in grizzly country!
Want more from Eastmans'? SUBSCRIBE HERE!