After 55 years of hunting both by foot and horse I have covered many rugged miles. Packing out of the high country with 100 pound plus packs over rugged granite mountain ranges didn't help. Lets face it I have had a rugged and rough western life of straight up and down terrain. My old feet are worn out from use and abuse. I finally went to a foot doctor some years ago and he said my nerve endings are fray from abuse. This along with having an extra wide foot makes finding proper fitting foot wear impossible.
I don't have a long foot it's like size 10 1/2 or maybe 11. But I do have an extremely wide foot like a grizzly. It's so wide that I can't find boots that can match the width of my feet. Over the many years I purchase the widest boots possible and just wear them until they widen out from use. Back when I was in my twenties and thirties that wasn't that big of a deal. My feet were rugged and tough. A pair of leather boots lasted only a year before I worn them down. Now days its hard on my wore out feet to break in narrow boots. In fact lets face it the boots now days are heavier build and don't break down and widen out!
Lucky for me Lathrop and Sons came along with their expertise on footwear. Guy Eastman and Nate Simons (research editor) used Lathrop and Sons boot all last fall. Now those two put a lot of miles on boots in fall. That's a fall  lasting over 5 months! After wearing them all hunting season you can't get them to part with those Lathrop fitted boots. If you follow the Eastman hunts on TV you know because of the backcountry terrain we hunt its a must to have rugged boots that fit. The Eastman crew is so impress we talked Lathrop and Sons in to a Eastmans' Hunting TV Shows sponsors.
What sold me was not only do they sell top of the line brands of hunting boots but have the ability to fit problem feet. This expertise comes from the senior Lathrop as a foot doctor. Using his medical knowledge they make  hunting boots fit. For those of use who hunt in rugged terrain day after day Lathrop developed special insoles. The whole point of the insole is to give you a more comfortable fit while bushwhacking thru the backcountry. And for an additional fee Lathrop and Sons will fit your feet to special build boot. They have several levels of service in fitting boots.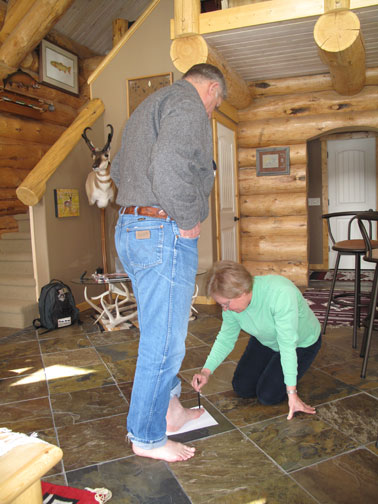 That's where I come in with my 4 X foot. I'm sending off a tracing of my grizzly wide pad and they are going to make up a pair of boots that will finally fit. In my way of thinking next to optics you need comfortable footgear. If not, you can't going those extra miles in search of trophy big game. I will let you know how it turns out. So Stay Tuned! In the mean time check out lathropandsons.com