It's that time of year again, scouting season. With that comes the July/August issue of EBJ or as all of you know it, The Backcountry Issue. As I am writing this the designers are putting the final touches on the issue and we will be sending it to the printer. This year's issue is going to be a great read for all of you who who wait eagerly for it to make it to your mailbox.
We will be covering:
-7 Deadly Mistakes-Not everything that doesn't kill you will make you stronger!
-How to use your glass to find the biggest buck or bull in the basin.
-Bonebreaking broadheads, which ones cut the deepest?
So to tide you over until the new issue comes out, I dug up a past article from EBJ staffer Brian Barney on camping in the backcountry. I hope it gets your blood pumping for the coming season and I hope you found success in the draws.
Advanced Backcountry Camping -Tips & Tactics
By Brian Barney
The backcountry is a place that takes sweat equity to get anywhere. It's where effort equals success, and the hard work and toughness seems to weed out the weak from the strong. The remote nature of the backcountry holds the biggest trophies out West. In all of the country I've explored, I rarely see any boot tracks or hunters. The only way to effectively hunt this vast country is to camp and hunt multiple days. The evolved hunter uses his camp to benefit him throughout the hunt. I will go over the advanced tips and tactics to swing the odds in your favor for notching your tag in this rugged country.
Extreme backcountry camping is making your camp spot work for you. I will predetermine the best high ridges and peaks that give me commanding views. I will push above the normal campsites that are next to creeks and lakes in the bottoms. I will climb with my camp on my back up to the last group of trees or last bench, or just off the ridge. First light and last light are prime times and are the best times to catch that trophy you're after. Put yourself as close to the best vantage, or just off that sweet hunting ridge. If you camp in the bottoms, it can take hours to get the elevation, and unless you're hiking miles in the dark, you're too late to the vantage point, and miss actively feeding game. Living on top lets you be in the best spots at the best times.
When hunting elk, not only will I use my camp as a vantage point, I will use it at night to locate bulls, as elk are most active at night. They will bugle like crazy while trying to breed cows and defend their harem. Position yourself above a basin using its acoustics like an amphitheater. During the still night you will know if elk are there. Think about it, you can hunt a different spot in the morning and evening, then cover a spot at night listening. A lot of times this has put me in rut fests, or if nothing else, told me not to hunt there in the morning.
A backcountry hunter has to be mobile to consistently locate game. I don't hunt everywhere with my camp on, but I do move my camp a lot. My camps are strategically placed to cover multiple drainages, and once I do a glassing session or two during prime time, I know what lives there. I usually take the middle of the day to move my camp and set up in a new location. A few years ago, I hunted in Nevada for mule deer. I moved my camp two days deep into remote backcountry. I played cat and mouse with a giant velvet mule deer for multiple days, moving my camp to different vantages throughout this huge basin. I stalked this buck multiple times… I bumped him with a spooked grouse inside 100, I clicked a rock at 55, blew out a deer traveling with the big buck at 35. You name it, it went wrong. I moved my camp several times finding new angles on the drainage andI would relocate the buck again and wait for an opportunity. I did finally get the better of this personal best buck, and I attribute it to being mobile.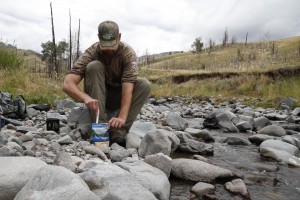 WATER MANAGEMENT
Water management can be one of the biggest challenges when camping up high. Plan your water fill ups wisely, and make sure you bring enough to the top. How much water you use in a day varies on physical shape, exertion, and temperature. I like to have a minimum of 32 ounces a day, 75 ounces if the getting is good. Dehydration is a matter of life or death in the remote wilderness, so know your body and don't push it too far. I will pack two to five days worth of water up high, and then usually plan a fill up. Take advantage of water crossings while you're on the hunt, carrying your filtration system and empty bottles in your pack is always smart. Anybody can make it up in the high country, but can you pack enough water to live there and locate a trophy?
 FOOD
Your food should weigh one pound to a pound and a half per day, and this is not the place to save weight. You need 2500 to 3500 calories a day to sustain you in the mountains, anything less and you start to lose energy and ambition. When I was younger, I made the mistake of not bringing enough food on big backcountry trips. I would live off a cliff bar in the morning, cliff bar for lunch, then mountain house for dinner. This was a huge mistake. I would get zapped for energy and not push as hard as I needed to be successful. Make sure you have enough food to keep you hunting hard for the duration.
MOTHER NATURE AND WEATHER
Weather can be brutal in the high country, so make sure your clothing and shelter are up to the task. Before I leave on every adventure hunt, I print out an extended forecast over the Internet, so I know what to expect. You can hunt through small showers and storms, and sometimes it makes the hunting better. When nasty storms set in, it can test your commitment to succeed. I have had to wait out multiple day storms in my tent waiting for a break. I found that the hunting is always best after a storm, or at least that is what I tell myself to stay in.
If you travel the backcountry much, you either have, or will soon have respect for lightning. On the peaks, lightning can roll in quickly and be extremely violent. While hunting I use the 30/30 rule. If less than 30 seconds passes between lightning and thunder, it's time to drop elevation to a safe place. I also wait 30 minutes after I hear the last thunder before going back out. If you have to take cover, the lower the better. Get down a good thousand feet or morein a small group of trees. Avoid being next to the tallest trees, and also avoid being the only thing in an open meadow. I have had multiple run-ins with lightning, but I can vividly remember two times where storms rolled in in the middle of the night. I retreated to lower elevation in complete darkness, spent half the night crouched on my feet, getting pounded by rain, with lightning striking all around me. This was not a fun lesson to learn the hard way. Now days, I use the extended forecast, and monitor the weather at all times. Every place I sleep I make a plan for middle of the night lightning. Take a few minutes while setting up camp and figure out where you will go if a bad storm comes in. Having a lightning plan will help avoid the feelings of helplessness and panic, and keep you safe in the high country.
 BACKCOUNTRY DANGERS
 Grizzly bears inhabit a lot of country I hunt, and black bears are present too. When I was younger, I was leery of bears, and some nights the paranoia got the better of me. After spending hundreds of nights in the wilderness, and being around hundreds of bears, I feel totally comfortable nowadays. Honestly, I think being leery of bears was in my own head, and it just takes time in the mountains to get over it. That doesn't mean you should throw caution in the wind because one still has to take the right precautions. Eat away from your tent, and never eat or store food in your tent. Every night, hang your food bag downwind of camp. Bears move on ridgelines, and game trails, so try to get off the beaten path in some cover or north facing slopes. Always pack a can of bear spray accessible while hiking, and while sleeping. Follow these rules, keep your wits sharp, and you will be fine when it comes to bears in the backcountry.
 THE FACTOR OF ALL FACTORS – WEIGHT
Backpacking light is the name of the game in the backcountry. Having the lightest load possible makes every climb, and every mile easier. When I first started backpacking, I had heavy gear, and packed in way too much stuff. I couldn't make it as far as I wanted to because I would burn myself out just getting into the country. Over the years I have figured out exactly what I need for different days, and water conditions. Packing my scope and enough water, I'm under 45 pounds for 10 days, under 40 pounds for five days, and under 35 pounds for three days. New backpacking gear is expensive, I know. Seems I am always on a budget, but every year I save enough money to upgrade a couple pieces of gear. Make your upgrades where you save the most weight.
One item guys often overlook is the backpack itself. Sure, heavy backpacks shoulder a heavy load of meat really well, but you have to harvest that animal first. There are a lot of packs that shoulder a 30 to 50 pound load really well for way less weight. The way I see it, an 80-pound load is never that comfortable. I can always make a load to the truck, and return with a different pack. My expedition pack weighs in right now at 3 pounds 6 ounces. They make them lighter than that too…you just have to find a balance between durability, comfort, and weight.
 One of the most essential pieces of gear is your shelter. Over the years I have tried a lot of different options, and this is my assessment. The bivy sack is as light as you can go, but be advised rain or snowstorms are no fun in these things. Once you cover your face and zip up for either showers or mosquitos, they tend to condensate, soaking your sleeping bag. One up side is bivys only need a small footprint to set up, so you can sleep just about anywhere up high. I have found I use bivys for short trips (two to three days), and only if the weather is going to be really nice. There are a lot of good, lightweight three-season tents out there; these tents are comfortable in the high country, and you can get out of storms, store all your gear in a dry place, and get a good night's rest. The single man tents range from two to five pounds, but for the weight you do get a bombproof shelter. I have gravitated to a hybrid combination of the two, called a bivy tent. They're usually a single-wall design with a full bathtub floor. You give up a little bit of comfort, and deal with some condensation, but they weight in at a pound to two pounds. Usually you can set them up with a stick, trekking pole, or some lightweight carbon rods. I have ridden out some nasty storms in a bivy tent, and they always do well for me. The one I use right now is from Six Moon Designs and I'd definitely recommend you check them out.
 LOW IMPACT
 Make sure you are low impact in the backcountry. You worked hard to get back into virgin country, don't screw it up with bad wind, skyline hiking, or a bad camp sight. If possible, stay just out of the basins you believe hold game, or on the backside of a ridge you plan to hunt. Use cover or topography to conceal camp and be quiet in camp, and avoid having a fire unless it's 100% necessary. Animals will blow out or change their habits if they feel pressure. Being low impact keeps the element of surprise in your favor.
The backcountry holds some of the biggest critters out West. This vast country gives you a chance to test your skills, endurance, and mind. I can tell you there is no better feeling than being deep in the wilderness tasting the rewards of a hard earned, DIY, public=land, trophy. Get out this summer for some scouting missions to get comfortable with sleeping in the mountains. Fine tune your setup, have a good plan for extreme camping, and arrow that monster of your dreams.