Well, I'm back on the blog after several months of moving snow all day, every day, up here at the place. By Christmas, we had more of the white stuff then all last year! I think we've got something like over 120 inches that hit the roof of the house. In fact, I had to shovel the roof twice this winter. Between shoveling snow and plowing, I was able to do some sledding – let me tell you, it' s been a great year to own a couple snowmachines!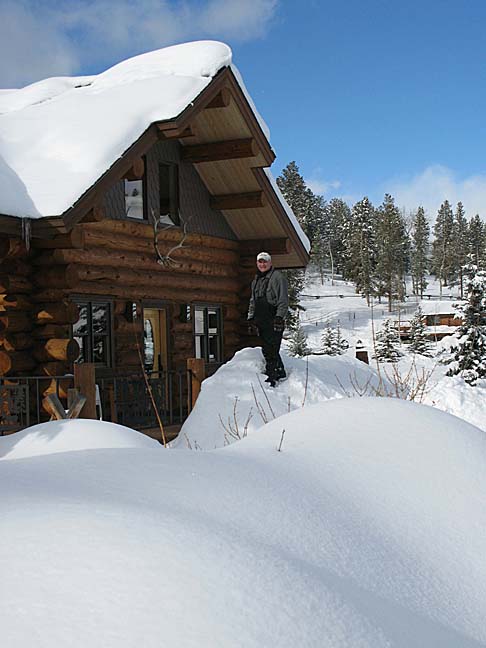 All the game has headed down country with the wolves at their heels. By the 18th of March last year, the grizzlies were out all over the place, but because of the heavy snow this year, I hope it's a little later. At any rate, I'm counting down the days until the humpies start moving in. I will be sure to keep you all posted on those pesky bruins.
In January, I ventured out of my snow-bound homestead and went to the Shot Show in Las Vegas. When I was there, I found a few new products that would be of interest to high country hunters. One was the Zeiss smaller spotting scope that can be cranked up to 45 power. It's rubber coated and the whole scope is one unit – which helps keep moisture out for sure. It weighs 2 pounds, a lot less then the big cannons they now offer. The other find is Savage Rifles' new mountain rifle that weighs less than 6 pounds and has a 22" barrel – just right for the backpackers and high country hunters. Myself, I hate having to pack those heavy magnums up the mountains. I will do a product evaluation on both in future blogs.
Went to Yakima Sports Show and lectured and talked to a lot hunters. We had the Trophy Deer Display there and were the hit of the show. Fun Stuff!
Hey, while I'm thinking about it, I'm working on a new version of my book, Hunting High Country Mule Deer – it will have several new chapters and sections that are sure to be full of useful information. All the chapters will be rewritten for modern day high country hunting and it will have a lot of new photos, and the gear section will have the latest equipment for backpacking. I hope you hunters will be interested in the new version. After you pick yours up, make sure you drop me a line at mike@eastmans.com, and let me know what you think. Good luck in the draws and I will check back later. -Mike