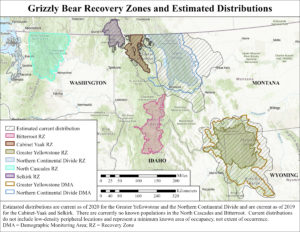 Folks paying attention to the ongoing saga of delisting the grizzly bear finally woke up to long-awaited response on the morning of February 3rd. The U.S. Fish and Wildlife Service announced their take on petitions for delisting that were submitted by Montana, Wyoming, and Idaho.
While the 90-day findings the federal government issued were nearly a year in the making, there was good news for two of the states who petitioned for the bear to come off the list. Montana and Wyoming were given the green light to begin the 12-month review.
This is the third time the grizzly bear in Wyoming and Montana has entered in the 12-month review process; first in 2007 and then again in 2017.
One difference is these delistings are based on smaller recovery zones – that means the bears in certain areas can be delisted but the grizzly bear as a whole in the Lower-48 area would not. In addition to Yellowstone bears, Montana also has been given the go-ahead to review the Northern Continental Divide population of grizzlies for delisting. Those bears, commonly encountered in the famed Bob Marshall Wilderness and west, are seen as a distinct, healthy population above recovery objectives, as well.
What about Idaho?
The USFWS's 90-day findings for the Gem State sent them back to the drawing board. Without as many bears as the other two states, Idaho will have to revise their proposed management approach to get their bears delisted. Governor Little promised to bring a lawsuit to the Biden administration on behalf of his state to try and reverse the federal government's decision on the Idaho grizzly bears.
Will we get a grizzly bear hunt this year?
Not likely.
Even though the 12-month review process technically began with the petitions a year ago, there is probably going to be a significant delay between this announcement and any sort of real delisting. I would not make any room on my credit card for a grizzly bear hunting application for at least a year, but maybe by then the federal government will accept the hard-fought, science-based state management plans of Montana and Wyoming.