Do Convicted Poachers Pay Enough to Deter Others?
All of us get frustrated when we hear about poachers violating the public trust and illegally taking the wildlife that we pay to see flourish and that every citizen has the right to enjoy. Law-abiding hunters that wait years to hunt that species grit their teeth as they see trophy animals wantonly wasted. For loss of this public resource, courts in 42 states have restitution in addition to other available measures such as fines, community service, forfeiture of equipment and animal, in rare cases imprisonment or even felony charges. Sometimes, the restitution is pursued as part of a separate civil case.
Restitution Varies a Lot State to State.
If you poach a cow elk in Colorado, there is no restitution, though you may have a fine. Next door in Wyoming, restitution on that cow runs $6,000. In Utah, the restitution is only a recommendation and the same cow elk runs $750.
Most states don't set restitution very high for non-trophy animals but set a steep price if it is a trophy animal. Again, it varies by species and state. Montana figures a buck antelope with less than 4" horns is worth $300, but a trophy buck is $2,000 and a trophy mule deer is $8,000. Poach a trophy bighorn in Oregon and you're looking at $50,000.
Poach and Pay Program & Survey
The Boone and Crockett Club began the Poach and Pay (PAP) program to assist states in strengthening their restitution programs. There are now at least 21 states that use a measuring system, usually B&C's, to help determine the proper amount of restitution to require of convicted poachers. In South Dakota, a percentage of the amount goes to the school district in which the poaching occurred. The research arm of PAP, supported by Leupold & Stevens, recently released a study based on surveys and interviews of wildlife officers across the country. In the West, every state participated except Washington and Nevada.
Problems with Prosecution
While the wildlife officers were quick to point out that courts are overwhelmed, the most common frustration they had was with prosecution in the courts:
Wildlife crimes and cases often not a priority.

The problem in an overburdened court system is that poaching cases share the same courts as domestic abuse, drugs and DUIs. To some judges and juries, shooting an animal out of season seems relatively trivial in comparison.

Inconsistency

with imposing fines, dismissing, and/or dropping cases. In the absence of national standards, sentences vary by state and by court. Many defendants are defendants allowed to make small monthly payments on restitution, perhaps too small to be sufficiently painful.
Courts weak on prosecution.

Judges have cultural, traditional or other personal influences, as we all do and sometimes that leads to less of a penalty. Sometimes prosecutors reduce penalties to get more convictions.
Lack of knowledge and understanding of fish and game laws by judges and prosecutors

– Judges and juries often did not understand point scoring and presumably other things such as how difficult it is to draw a tag or the scarcity of game or the value to the public.
One officer interviewed said that "If it is a judge that is not really into the outdoors or if the judge is a farmer, they will minimize the importance of poaching and they will almost always give them a minimum fine and will let it go at that."
Other Problems with Prosecution
The second most common theme that was an obstacle to bringing poachers to justice was their own constraints with respect to enforcement staffing and time:
Not enough enforcement officers

– Wildlife officers frequently have very large territories. That means that there is often little visible presence of law enforcement. Think about it. Does the presence of a squad car have any effect on say, your vehicle speed? It works the same for the illegal taking of wildlife. Picture the scene in the offseason of one member of a poaching ring telling another that the only wildlife officer for 500 square miles is out mowing his lawn on Saturday and not likely to be near the scene of the intended crime.

Enforcement officer time constraints

– Game wardens have other responsibilities outside of wildlife law enforcement, like search and rescue, enforcing fishing and boating laws as well as general law enforcement
Cases can take a long time to develop

– Poaching takes place where often there are few if any witnesses and those that do have knowledge may be a family member or buddy, if not an accomplice. Especially in the case of poaching rings, it takes time to get and develop leads and get documentation that will stand up in court.

Restitution Amounts in the West
As mentioned, many states now base restitution at least partially on the number of points or measurements that use the B&C scoring system or Pope and Young or SCI. Here's a listing of the restitution for selected big game animals in western states that responded to the interview or survey requests.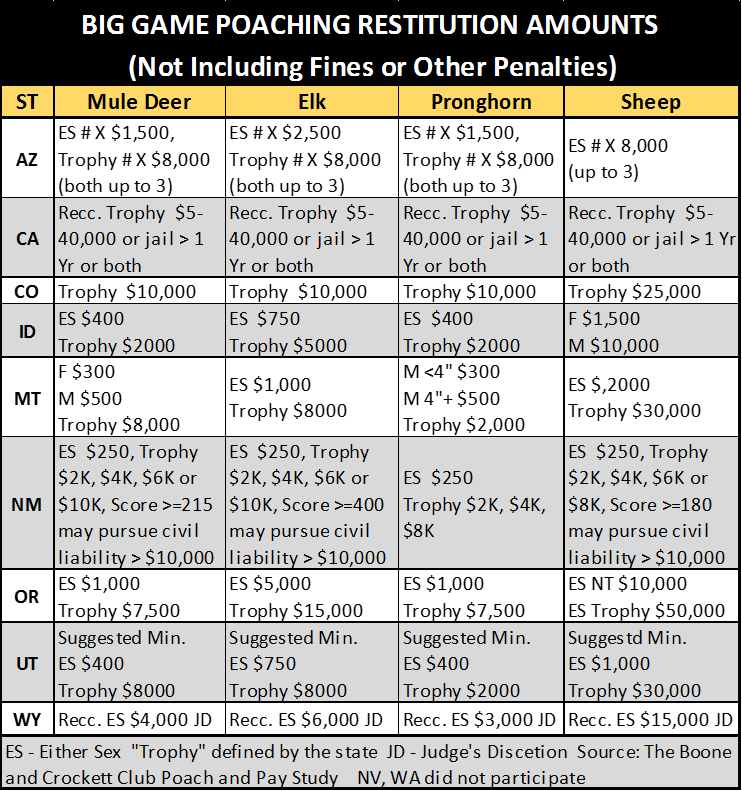 Now it's time for you to chime in… what say you on this complex issue; restitution, how much is enough?