The Oregon Dept. of Fish & Wildlife (ODFW) announced drastic tag cuts in some deer and antelope hunts in eastern Oregon. Cuts range from 25% to 50%, averaging 40% for deer in the affected units and 36% for antelope. All told, there are twelve 100 Series deer units affected with a total cut of 2,742 tags. There are seven 400 Series pronghorn hunts affected with a total cut of 114 tags.
For deer, Units 51, 62, 63, 65 and 66 fared the worst, with cuts of 40-50%. For pronghorn, Units 51B, 63, 64 and 65 came out worst, down 40-52%.
Here is a list of tag reductions effective for the 2017 draw. Landowner Preference tags will also be reduced.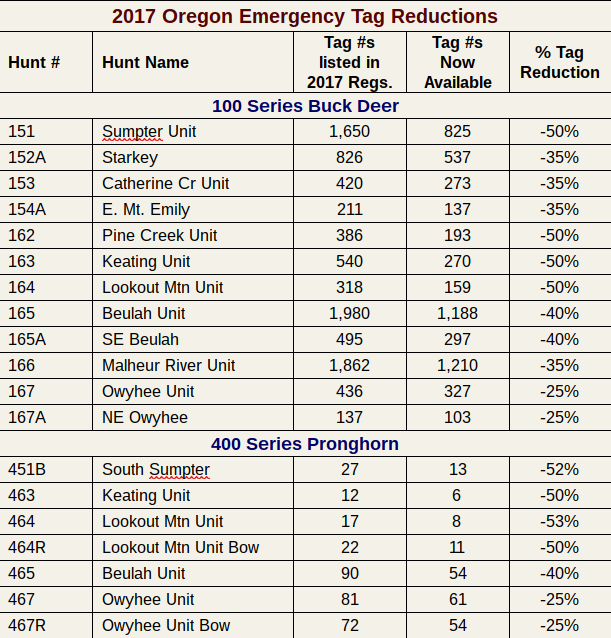 According to ODFW,
"Hunters who have already applied for one of the controlled hunts effected may change their hunt choices free of charge until June 1, 2017. Use the Controlled Hunt Application Change Request form found online and mail, fax or hand it in to an ODFW office (hunt choices cannot be changed through the online sales system)."
Here's the link to the change form you need if you decide to change your application choices before June 1.
http://www.dfw.state.or.us/resources/hunting/big_game/controlled_hunts/docs/2017_ch_app_change_request.pdf
Here's the link to the local ODFW offices, with their address, phone and fax#.
http://dfw.state.or.us/agency/directory/local_offices_wildlife.asp