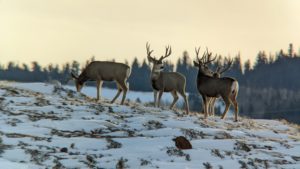 Well, we have gone from what I called, "a good old-fashioned winter" to a harsh winter over the past three or four weeks. With snow packs piling up and low temperature records being shattered, this winter in Wyoming has been one for the records books. 
The town of Pinedale has reported almost 60 straight days with a low temperature of below zero degrees fahrenheit. That has to be some kind of record. Earlier in January my personal weather station recorded a low, windchill temperature of -51, a personal record for me and certainly an extreme for my home in Park County, Wyoming. And have you seen the images of the snow drifts in the neighborhoods of Casper? Although alarming, they are impressive in a painful kind of way. It brings me back to my roof shoveling days as a kid in Jackson. 
As for the wildlife, nothing is known for sure at this point, other than the outlook does not look good. I have gotten reports of die offs in pretty heavy numbers in western and southern Wyoming: massive herds of antelope smashed by trains, elk and deer hung up in fences and trapped along the freeway and elk desperately trying to survive in neighborhoods and on golf courses around Jackson and Star Valley. The aftermath of this winter could be something to behold. So far, this winter has only been eclipsed by that of 1982 some are saying, and that was a bad one, unless you were an eleven-year-old skier. 
As for areas of relief, there aren't many. The northwest corner of Park County, where I live, seems to be the lone standout for cold temperatures and right about 100% snowpack, leaving us with a winter that is just a tick worse than average. The rest of the state however is not as lucky by a long shot. 
With a statewide snowpack sitting about 130% of average, Wyoming is going to be a very, very green place in a few short months. Whatever does manage to survive will have plenty of green to munch on. Talking to folks around the state, particularly in Lincoln and Teton Counties, the recorded snowpack levels are far from an accurate representation of the true snow pack levels. As a good friend in Jackson told me on the phone the other day, "Man it's like when we were kids over here, we haven't seen one of these winters since high school." Next summer will be my 35th high school reunion if that puts anything into perspective.
As for the wildlife itself, as I mentioned earlier, we don't have a good gauge on the damage just yet. April and May will give us that data to digest. I have a feeling the elk will see a slight die off in some areas, mostly in the West and Southwest corners of the state. The remainder of the state should be somewhat normal, or a tick below that for elk survival, with maybe a hot spot or two around the Laramie and Rawlins areas. 
As for the deer, it's just not looking great. The entire western side of the state should be affected. And this is very bad news, as if our deer herds haven't suffered enough from the drought over the past few years, this should add insult to injury on that front. I think we will see drops in deer numbers pretty much statewide. 
I have a gut feeling the antelope herds may be the hardest hit by these weather events. We lost over one third of our antelope to the drought conditions of the past few years, and now, this could knock another 20-30% off of that. This means we could lose about half of our antelope or more in Wyoming. This could be devastating. Keep in mind, this is coming off of a nearly all time low for antelope harvest during the 2022 hunting season in Wyoming where we clocked the lowest harvest since I have been keeping records for over 25 years and counting. 
We will have another winter range update, a late spring edition, coming in May that will detail, with better data, what we are actually facing for winter die off. Make sure you read this before applying for your tags this year. Until then, prepare to buy points for the 2023 hunting season for most areas and hunts in the Cowboy State. Until then, I will leave you with this quote from my friend Doug with the Wyoming Game and Fish Department regarding the Wyoming winter so far. 
"Harsh winters are not uncommon in the West, but it has been a while since we have experienced winter conditions like this in western Wyoming," -Doug Brimeyer, deputy chief of the Game and Fish wildlife division.