When I was just a boy, my grandfather gave me a gift, a true gift in disguise, the book, "East of the Sun and West of the Moon" by Theodore Roosevelt. This was the first book I found interesting enough to read cover to cover. It was some pretty heavy reading for a twelve-year-old Wyoming boy, as I had no idea what some of the words were, but I couldn't put it down once I began the adventure; the adventure of all adventures with the Roosevelt brothers. The year was 1926 and the expedition was to hunt the massive wild sheep, or Poli of Far East Asia.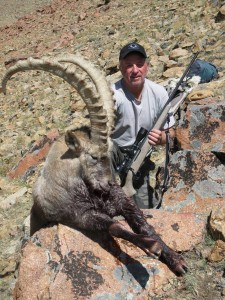 Ever since those few winter days in Jackson my goal and ambition has been to hunt the mostly unknown, and certainly foreign reaches of central Asia. Now the time has finally come for us to travel almost half way around the world to check this adventure from "the list." My father, brother and I will be leaving soon for an adventure that surely will meet or exceed all adventurous expectations. While we certainly cannot afford to hunt the magnificent Poli that Asia holds, we will be hunting his distant cousin the Siberian Ibex that inhabits the Altai mountains of western Mongolia; a handsome specimen in his own right and a wonderful trophy nonetheless.
With high hopes, heavy bags, and an open mind for adventure we soon will embark on the adventure of our lives to this point. If you have any interest in checking in on the hunt be sure to visit the Eastmans' blog and Facebook page for updates on the progress of the adventure. Good hunting. We should be back in a few short weeks…God willing.
-Guy Eastman
[quote]"There were many delightful short trips we could have taken with reasonable comfort. We decided, however, that these should be saved for a later day when we had qualified for the grandfather class. We felt we should take the hard trek now when we were still in good condition physically, before we "carried too much weight for age." -Theodore Roosevelt, 1926[/quote] [signoff1]