Update on the Cheater Buck that died outside of Jackson Hole. A few months ago on FB, I posted rutting photos of a 28-point non-typical buck in Jackson, Wyoming that I filmed in November. Then on January 10th of this year, I posted on FB that the Teton Park rangers had found the giant buck dead in the park. A lot of people I talked to figured he was shot in the front shoulder by poachers. However, this old buck was know for wandering back and forth across a county road during the rut. As for myself, I thought possibly he could have been accidentally hit by a vehicle in his front shoulder while crossing that busy road.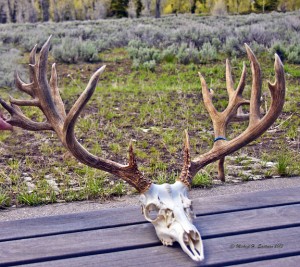 Fast forward a month and the buck was found dead one cold winter day on a sagebrush flat west of Kelly, Wyoming. Quickly, the park rangers called in the Wyoming Game and Fish who took the carcass and had an autopsy done. Was the 28-point buck a victim of poachers, hit by a vehicle, or just one of many big bucks that have winter killed? My sources say the conclusion of the autopsy is the buck died of hoof root on the front left leg. Maybe he got tangled up in some wire and it turned into a nasty infection that finally killed him. What a waste of a huge Wyoming non-typical.
The Grand Teton Park Moose Visitor Center has the buck and is going to display him sometime in the future. I measured the cheater buck's outside spread at 37-½" and he had 23" plus main beams. At this time, the Grand Teton Park has no interest in having the buck measured for the B&C record book. I looked at his teeth and it looks like to me he isn't over 6 or 7 years old the buck had at least three more years of life left. Packing 28 points, huge cheaters and a long dropper, this buck was a truly impressive non-typical for sure and one that won't soon be forgotten.