The following is the response to a question posed by a reader who is concerned about the cost of high quality hunting gear based off the layering article and review in the latest issue of Eastmans' Hunting Journal. To read the full layering article head over to the Eastmans.com home page and scroll down to the article on the lower center of the main page. Let me know if any of you have some good cost cutting tactics when it comes to hunting gear. Tis the season so to speak.  -G
Guy,
I have been an avid hunter for 35 years and hunt in the Cascades of Washington state. Enjoy the magazine and subscribe to both editions. I love your published stories. The MRS is great information. Thank you.
However, I have a problem with your recent layering product review. This is expensive gear, way more than I can justify spending. I feel that more and more, your magazine is becoming elitist. Only the well-off can afford the CHEAPEST layering system in these current economic times. $500 packs are beyond my means as well.  I understand that your magazine demographic may be affluent, but I am sure there are readers who would like to see more affordable options. Field and Stream (not my favorite) does a nice job of compare and contrast between high end and affordable.
Just my input.
Thank you for your time
Tim
RESPONSE:
Howdy Tim,
Thanks for the e-mail. I can totally understand your frustration regarding the price of hunting gear these days. Congratulations on 35 years for hunting the Cascade Country in Washington. That is tough country by any measure.
Keep in mind we chose to review only the best of the best in hard-core hunting gear. These four companies represent only the very best in materials and design. With this comes a premium price and I totally agree looking at the entire layering system all at once can be a very expensive undertaking. I would concede this however, you can cut some corners to make the price of this equipement much more economical than initially meets the eye.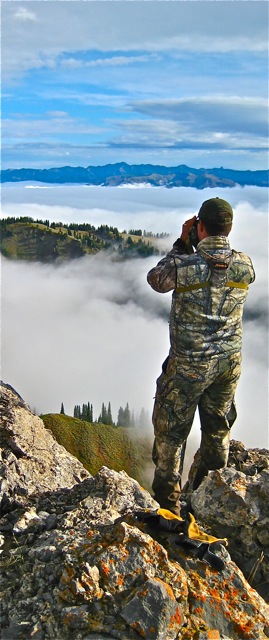 For instance, the prices noted in the write-up are the manufacturer's suggested retail price (MSRP) which is usually a bit higher than you can actually find the product in stores. In addition, if you shop hard and look for a true bargain like my wife often does, you can find most of this gear for much cheaper than noted in the article. For instance, the Russell Gale Jacket, one of my favorite pieces in the write up, is listed at $214.99 but you can pick one up right now from Chad Linton over at Linton Outdoor's (
lintonoutdoors.com
) for only $169.00 which is a savings of more than 20%. The very same goes for some of the Sitka gear pieces. If you really shop the racks hard and are willing to pick up some of the gear that is last year's models or designs you can almost cut some of that pricing in half. Some guys have picked up these layering systems for around $500-$600 by mixing and matching brands, camo patterns and hit the racks in the off buying seasons to get the best deals.
An additional note to keep in mind is that you don't have to purchase all of this gear at once. It took me three or four years to gather up, test and fully incorporate my entire layering system as it sits today. Most of this gear will last you 3-5 years minimum. I would start by purchasing the base layer and the rain gear first and work my way down the system from the outside layer backwards by purchasing a few new pieces each and every year until it is completed. In the interim simply use what you have or buy lesser gear from the bargain basement at Cabela's or Wal-Mart and progressively upgrade each piece of gear as you go. By doing this, and shopping smart you should be able to complete the system in four years by purchasing less than $200.00 worth of gear each year. Many of these pieces also make for great Christmas and Birthday gifts from the wife or girlfriend that always seems to find it difficult to shop for a hardcore hunter.
In my opinion, try not to scrimp on the base-layer, the protective-layer and possibly the insulating-layer. The rest can be compromised with lesser gear fairly easily. Another cost-cutting trick would be to only buy the gear you need for the early season hunts and then swing into the sports shop at the last minute right before your October or November hunts and pick up the last few remaining layers at a bargin last minute price right before you head afield.
These are just a few ideas to help get you through the fall and not downgrade your gear to the point of discomfort or even danger. I know the country you are hunting and it is no place for cheap cotton hunting gear.
Thanks again for the note and best of luck to you this fall. Thanks for reading the publications.
-Guy