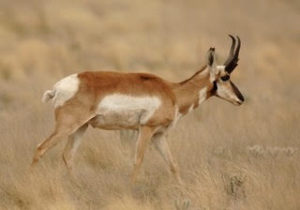 Dale Hajek, Public Information Officer
623-236-7215, dhajek@azgfd.gov
Download new Arizona E-Tag mobile app before 2023 pronghorn, elk draw
Allows hunters to electronically tag their harvest in the field
PHOENIX — In preparation for next month's opening of the 2023 pronghorn and elk draw, the Arizona Game and Fish Department (AZGFD) is encouraging hunters to take advantage of an innovative mobile application to modernize the tagging process.
"Arizona E-Tag" is now available. Hunters can download the app from the Apple or Google Play stores, then opt-in to receive an electronic big-game permit through their AZGFD portal account (this is not an option selected through the draw).
The app provides real-time delivery of licenses and big-game permits purchased or drawn after the app has been downloaded. Hunters should ensure they have updated to the most recent version of the app, which is compatible with both Apple and android products.
The app also provides the ability to electronically tag a harvested animal and complete the hunter questionnaire. The app will help strengthen the hunt data from which biologists make hunt recommendations and the Game and Fish Commission makes decisions. For more information, visit www.azgfd.gov/hunting.
Hunters who choose to download the app and receive their big-game tags electronically will be able to:
Receive an electronic copy of big-game permits on an electronic device, eliminating the need to keep paper copies.
Electronically tag harvested big game in the field and complete harvest reporting.
View hunting and fishing licenses.
View and manage licenses, as well as big-game permits, for authorized dependent accounts.
Hunters can choose a material of their choice, such as flagging or tape, to attach a unique validation code (provided in the app during the tagging process) to their animal following a harvest.
As a reminder, opting-in to receive an electronic big-game permit is optional. It is not required to participate in a draw. Any big-game permits that were drawn or purchased before the app has been downloaded will not appear as an electronic tag.