Hey Folks! I have been working on the backpacking chapter of my new book. Here is the first generation frame pack my dad used in Alaska in 1957. He's using it to pack out a sheep. I have a set of photos of packs from 1957-2011 and they're all really interesting! Notice it has a wood frame and probably weighed a bunch. Talk about uncomfortable.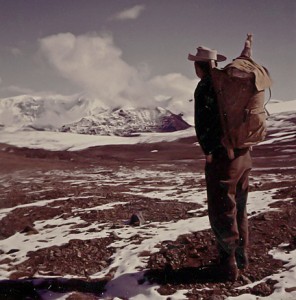 The next year, 1958, dad was in Alaska and using the first generation metal frame pack while guiding for Lee Holen. Notice that they have padded shoulder straps. I remember using that pack with those padded straps hunting with Dad at eight years old. Ted Wilcox (left) and dad took a rubber tire tube and cut it for scope protection. Dad's hat, in its second year, was worse for the wear because if you look at the first photo it looks brand new. That's what two years of hunting in Alaska will do to a cowboy hat.
Now fast-forward to the early 70s and the pack I used was made from lightweight aluminum with padded straps and a waist belt for transferring some of the weight to my hips. I still have that pack. It wasn't uncommon to come out with a deer loaded at 110 pounds. I would strap my gun to the back of my pack, as I went from one lookout to the other.
Here's my son, Guy Eastman, hunting elk with a modern-day, lightweight backpack, which has a gun scabbard on it. The internal frame can handle heavy loads. The pack is designed with pockets for a spotting scope and other hunting equipment. The packs that I used in the 70s were just for leisure use and we would have to do some modification to handle our hunting equipment. My new book, Mule Deer Hunting Tactics, has a section on backpacking along with 29 other chapters on mule deer hunting. It will be for sale at Christmas and the first 2,500 will be numbered and signed by me. In addition, it has hundreds of colored photos. You can pre-order at eastmans.com or by calling the office at 1-800-842-6887. Those 2,500 first edition copies will go quick!