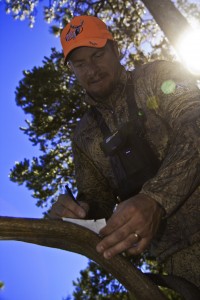 Less is more – right? The fewer items we carry with us up on the mountain while still allowing us to get the job done, the better. A number of years ago, range-finding binoculars entered our world and seemed too good to be true. The idea of advanced simplicity is novel in the world of high-end optics – advanced because of the technology and extreme durability, simplicity because it reduces the number of items you need to carry with you. For instance, the Victory RF (range-finding) 10×45 binos weigh 2 lbs. 5.2 oz., while the Victory HT 10×42 binos and Victory Mono rangefinder weigh a total of 2 lbs. 9.7 oz. You can carry just the RF binos, leave the rangefinder behind and save weight.
One of the advantages of carrying the RFs is that you find yourself more apt to constantly range both close and distant objects, compared to digging out a separate rangefinder. In fact, you'll notice that you'll get moderately addicted to ranging reference points – just because you can.
Another advantage of the RF's is that their quality is guaranteed. You can find comfort in this investment in your hunting repertoire because of that little blue flag with the name ZEISS stamped on it. Zeiss has not only invested in quality glass and the accuracy of the laser rangefinder, but also durability. Complete with the rubber armor that is found on the Dialyt spotter featured in EHJ's Feb/Mar issue "Going the Distance"' article, you can use and abuse these binoculars without fear of easily damaging them.
The RFs also allow you to switch between thirteen different modes. These modes are broken down into two different categories in both yardage and meters and are included in the Ballistic Information System (BIS) from Zeiss that can be turned on and off.
Since we are in the U.S., let's focus on yardage settings. The factory installed ballistics settings enable you to select the setting most appropriate to your caliber and bullet weight by finding your known bullet drop in the charts in the RF manual. You can then get a target distance followed by an appropriate hold-over or hold-under reading in inches above or below the animal. These features, along with your common sense in a hunting situation will empower you to make the best decision/shot at the moment of truth.
Lastly, the RFs have a range-finding feature called "scan mode." Pressing and holding the range-finding button allows you to scan the terrain and get readings every 1.5 seconds, allowing you to quickly mark distances along that mule deer's path you've had patterned since the summer.
While the price tag isn't for the faint of heart, the RFs are a bit more affordable than their closest competitors, as well as being a better package deal than purchasing a pair of binoculars and a separate rangefinder. They retail for $2,799 and can be easily found at sportsmanswarehouse.com.
HARDCORE FIELD TEST CHART
Overall Design & Appearance:       The design and engineering is impeccable, but they appear a bit bulky.
Ease of Use:                                Easy to get accurate readings from 12 yards to 1400 yards.
Durability:                                    With a rubberized armor housing, they can withstand years of hard use                                                      in the field.
Improvements:                             The mode and range-finding buttons are tough to decipher with gloves                                                      while glassing. The RF's could be more streamlined and lighter weight.
Cost/Contact:                               MSRP is $2,799.00 at sportsmanswarehouse.com.  For more                                                                  information go to sportsoptics.zeiss.com and click on 'Sport Optics' in                                                      the Portfolio.