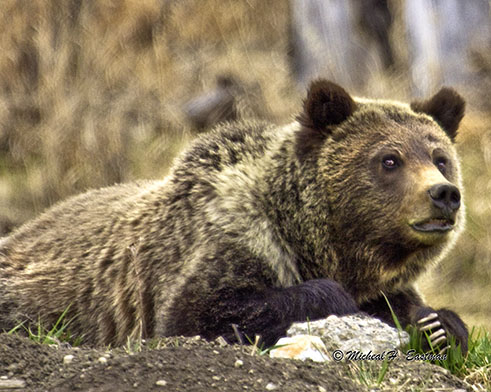 Insanity is often defined as repeating the same action and expecting a different result. Yet here we sit with green groups proposing an expansion of the grizzly bear's range into other national parks and refuges. On the surface this doesn't seem like a terrible idea but let's take a hard look at historic precedent and see where this could really take us.
Many people didn't think the wolf debate would be as ugly as it has been. My grandfather, Gordon Eastman hit the nail on the head when he predicted that wolves would be the losers if they were transplanted from Canada into Yellowstone. Lo and behold, look at what happened, they are one of the most polarizing species in the Lower 48. What did we really expect though? Did we think they would behave like anything other than wolves? They are creatures designed to hunt and left unchecked they have been very effective at being themselves.
Therein lies the bigger problem with transplanting grizzly bears into areas where they have not roamed in many years. Areas of California and the Grand Canyon are at the top of the list of transplant locations. Grizzlies will continue to be the aggressive beasts that they are and when they scare the general population who thought they were just cute teddy bears, we will have serious problems. Adding a super-predator into the ecosystem won't just have an effect on game populations; it will also cause negative interactions with humans.
What should we really expect though? Should we expect the bear to behave politely and then we throw up our hands in disgust when the animal acts like its instincts tell it to? But wait; could the problem be we don't really get it when we transplant some of these game-changing predators?
Not far from where we call home, we had a grizzly bear behaving like a bear late last spring. This bear saw fit to maul a local farmer who was irrigating his field. Game and Fish responded by starting an effort to trap the guilty party, which happened to have two cubs. The plan was relocation for the problem bear but there is often a strike system for animals that misbehave. One too many strikes and the bear is done.
I never heard whether they caught the offending bear but let's take a hard look at this one incident. Three bears were involved, one in the actual offense and two learning that humans are not something to be feared. Bears are smart and learn quickly which means these two younger animals will now be less likely to fear humans as long as they are unchallenged where they live. Let's also take into account that this proud mamma bear wasn't cornered in some backcountry elk-hunting honey hole. She was in the lowest of the low areas where a farmer has to pump water onto his fields! Let that sink in for a while. Not only is the grizzly's range expanding but they are now pushing into areas where there will be more conflict.
The solution is not to move all the problem bears into areas where they currently don't live or where they won't bump into us anymore. The solution is to follow the North American Model of Wildlife Management that has provided us with the healthiest big game populations in the world. Hunting grizzly bears in the Lower 48 would mean that we can manage healthy populations, retrain them to fear humans and in the process bolster budgets of wildlife management entities that are cash strapped. However, that might just make too much sense. If the fine people of Arizona and California would like to deal with grizzly bears in their backyards, I'm sure Wyoming would be happy to give them some.