Elk hoof disease showed up in southwestern Washington elk herds around 2000 and has been slowly progressing ever since. A dramatic rise in reports of limping elk in 2007 prompted a scientific investigation into what was causing the rapid spread. Symptoms include limping while walking and overgrown or broken hooves. It is also reported that bull elk have deformities of the opposite antler, depending on the timing of the hoof infection. Washington Department of Fish and Wildlife (WDFW) scientists still don't understand what causes the disease or how it spreads. The bacteria they have found to be present is a Treponema variety which is causing damage to the affected hooves. However, the WDFW team claims that Treponema is not the root cause of the hoof disease.
"I also have a little bit of concern because the Treponema hypothesis still requires an initiating event…until you figure out what that triggering event was you're not going to be able to really understand the disease," said Dr. Fairbrother, an ecotoxicologist with Exponent Engineering and Scientific Consulting.
Governor Jay Inslee has called upon Washington State University (WSU) to monitor the elk and continue studying them. They are just waiting on the legislature to determine where the funding of the project will come from. Charlie Powell, the PR officer for WSU's College of Veterinary Medicine, said that although they have done some analysis of samples from 2009-2013 they still cannot find the catalyst for what is causing the disease. Now hoof rot is showing up in Oregon elk as well, so it is a never-ending problem.
Gene Crocker of Washington, a 20 year veteran of Cowlitz County Game and Anglers claims it's simple. "I found out that after Weyerhaeuser clear cuts an area, they spray it with herbicide," Crocker said. "This kills broadleaf plants for 3-5 years." He also claims that the scientists don't know what they're talking about. "They haven't been here like I have for 78 years and seen how things have changed. Deer run around with hair loss, pigeons have disappeared completely. We have few grouse now. Honeybees have ceased to exist in the wild."
Mark Smith, owner and builder of Eco Park resort near Mt. St Helens has also witnessed the decimation of the area's elk and deer population. "Ninety percent of all the chemicals that Weyerhaeuser uses say 'DON'T USE ON GRAZING LAND'," Smith said…"Why do we allow forest land to be sprayed when deer and elk graze in these areas?"
Mt. Pleasant resident Krystal Davies is a farrier and hoof specialist that has been studying hooves for over a decade. "I do believe that I understand why the elk in Washington are being affected by this hoof disease. I do have scientific-based evidence that can provide a plausible diagnosis, a source of the disease, a detailed route and manifestation of the pathogen, as well as a potential cure." Davies goes on to say, "It is my belief that there are several factors to this situation but that herbicides and pesticides are the root cause."
Herbicides are also known to reduce immune system strength, enabling bacteria to take advantage of severely weakened animals. One of the common chemicals used by timber companies is Atrazine, and according to the National Toxicology Program, Atrazine is an immunotoxin and disrupts the function of the immune system by as much as 70%.
Upon further investigation into the aerial spraying program, Weyerhaeuser began a spraying regimen beginning in 2006 that consists of five different chemicals on clear cuts after they are logged. Chemicals like Atrazine, Clopyralid, Hexazinone, and Indaziflam are a part of that regimen. You might know them as Roundup, Crosshair, Rodeo, Transline, and Velpar. These chemicals keep brush at bay, such as Alder, Scotch broom, and blackberry so it doesn't compete with the planted Douglas fir seedlings. Remember that 2007 was the year that reports of hoof rot cases blasted through the roof!
Leptospirosis is also another concern. Dr. Boone Mora claims that Leptospirosis is everywhere in southwest Washington. In fact it is everywhere, it is the world's most common zoonosis. It is known by the WDFW that the bacteria have been widespread in the elk population since the early 90s. Dr. Mora has studied leptospirosis his whole life as county health director in North Carolina and wants to help. He believes this bacteria is most definitely part of the equation. The symptoms are severe pain in the lower extremities, which could explain limping elk. Wildlife regional manager Sandra Jonker said, "There is no evidence of an association between leptospirosis and hoof disease in any of the elk that have been examined. Dr. Mora also claims that history shows leptospirosis is often misdiagnosed because it is so similar to other bacteria. He goes on to say that he wants to help but, WDFW officials "won't cooperate with me in any way, they are very unethical in my opinion and they suppress information."
Wildlife officials insist there is no correlation to the heavy herbicides and hoof rot. Here we are 25 years later and there are still no answers. Elk keep suffering and dying. WDFW has reported there has been a 35% decline in the Mount St. Helens herd over the past 5 years. Hunters in SW Washington complain there are hardly any elk to hunt anymore. More studies are to be done, and we can only hope a solution will be found before it's too late. In 2017, the state legislature passed a bill shifting authority of hoof rot research to WSU. In 2018 the Washington legislature allocated $3M to WSU for 2 years' worth of work to study hoof disease. WDFW has allocated $480,000 to hoof disease efforts in the past two years as well.
The above photo shows all observations of limping or dead elk during the length of the disease's existence in the Mount St. Helens herd.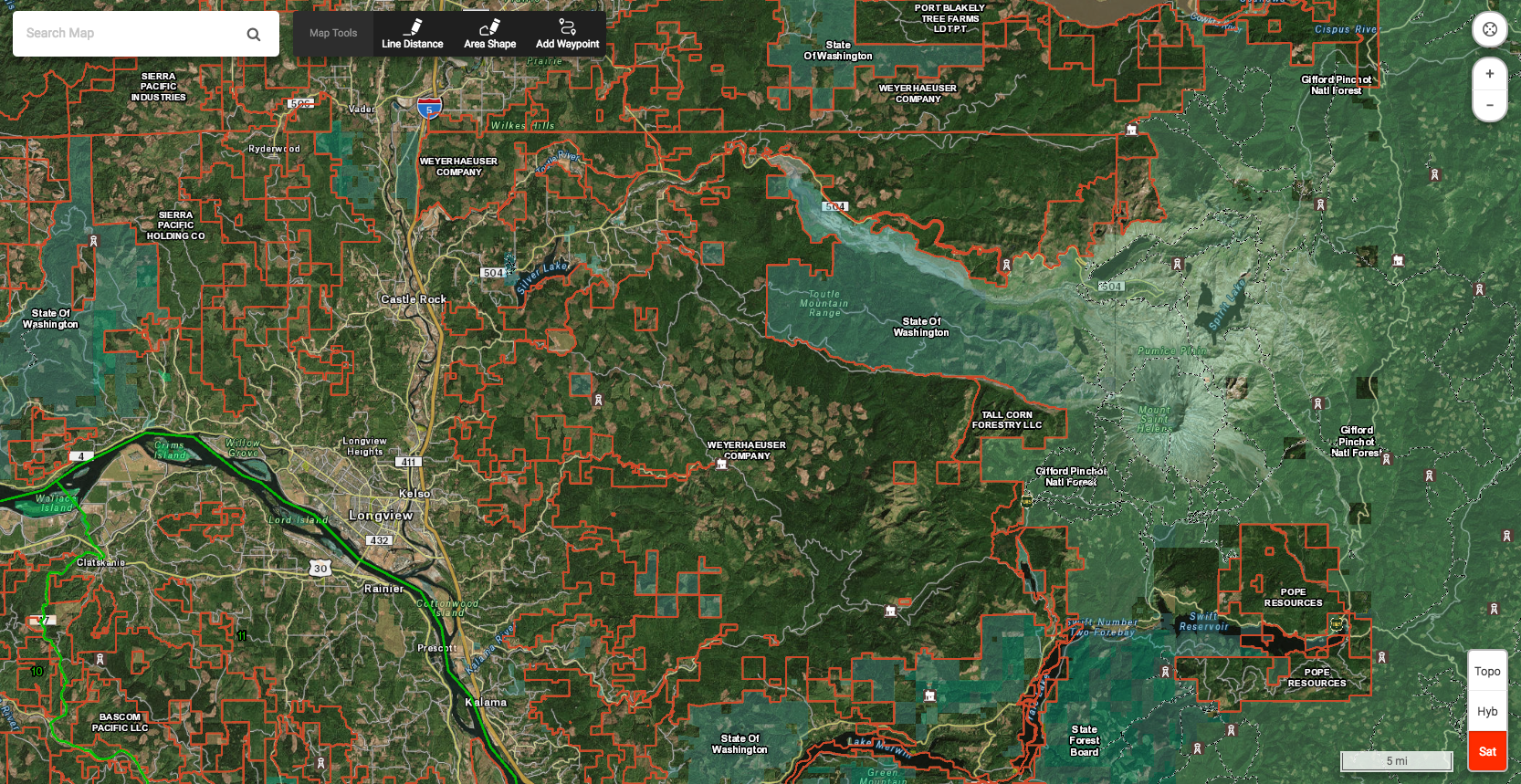 Cross-reference this land ownership map and notice the concentrations of reports on timber company land. The Forest Service made clear cut spraying illegal in 1984.
Sources
Citizens Express Profound Distrust of Fish and Wildlife Officials, Herbicide Spraying and Safety of Elk Meat. (2017, October 25). Retrieved from http://jongosch.com/citizens-express-profound-distrust-of-fish-and-wildlife-officials-herbicide-spraying-and-safety-of-elk-meat/
Lobet, I. (2012, August 15). In Oregon, Residents Struggle to Solve a Pesticide Mystery. Retrieved from https://www.theatlantic.com/national/archive/2012/08/in-oregon-residents-struggle-to-solve-a-pesticide-mystery/261083/
Growing Evidence Links Herbicides to Elk Hoof Disease. (2017, October 25). Retrieved from http://jongosch.com/growing-evidence-links-herbicides-to-elk-hoof-disease/
Landers, R. (2018, January 10). Elk hoof disease research hit high gear in Oregon, Washington. Retrieved from https://www.statesmanjournal.com/story/travel/outdoors/2018/01/09/elk-hoof-disease-research-hit-high-gear-oregon-washington/1013694001/
Citizens Express Profound Distrust of Fish and Wildlife Officials, Herbicide Spraying and Safety of Elk Meat. (2017, October 25). Retrieved from http://jongosch.com/citizens-express-profound-distrust-of-fish-and-wildlife-officials-herbicide-spraying-and-safety-of-elk-meat/