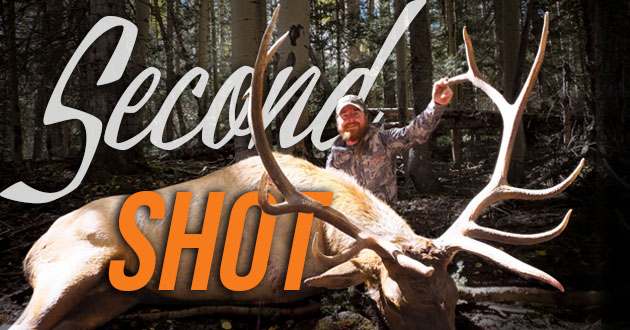 EASTMANS' FEATURE STORY 
Guest Author: NOAH ALBRECHT-ELK-CO-DIY-PL
Instantly, my heart began racing as I watched a cow sneak down a trail 30 yards through the trees. I immediately thought to myself, here's your chance, Noah. I drew my bow and settled what I thought was the 30–yard pin on the elk. To tell you the truth, I'm not quite sure what really happened in those moments because after I saw the animal, my adrenaline was flowing so much that everything seemed to be a blur, and who knows if I was even looking through my peep sight when I shot.
The shot broke, and the cow elk ran off. It didn't take long for me to realize that I missed. I felt horrible! I could see the arrow sticking out of the tree trunk the cow was previously standing next to. Without going through the shot process or thinking through what I was doing, I seemingly shot in front of the cow, missing her completely. I couldn't believe I screwed it up! I had the chance, and I dropped the ball by not thinking when I should've been. After having this gut–wrenching feeling for about 30 seconds, I was starting to stand up when I caught some movement again. 
This slideshow requires JavaScript.
I caught a glimpse of a ray of morning sunlight reflecting off the main beam of a bull elk's antler as he walked down the trail. It was actually happening…again.  As I watched, trying not to stare directly at the large set of antlers waving back and forth as he approached, I could tell he was a good–sized bull. I did all I could to try to keep it together and not stare at his horns, but I knew it was a little larger than anything I have been that close to while hunting.  
I slowly reached for another arrow out of my quiver and nocked it onto my bowstring. As I nocked the arrow, I kept telling myself, don't screw this up. I started to go through my shot process, and unlike a minute earlier when I "blacked out," I was a little more focused. Bow string to the nose—check, bow string at the corner of mouth—check, bubble level—check, peep sight centered.… Before the shot broke, I told myself, pick-a-spot, Noah, and don't screw this up. 
The arrow hit its mark, and I could instantly see the gaping wound the broadhead left in the bull's side as he ran off.  
It was at that point that I let out a deep sigh of relief while a river of emotion came pouring out. I was shaking like a leaf as I replayed the events that had just unfolded. I almost couldn't believe it actually happened. Three years of archery elk hunting trial and error had finally paid off, and all of those emotions were hitting me at once. I was proud of everything that went into my three-year journey. I wish I could use words to describe the feelings I had at that point, but I'm sure anyone who harvests their first archery bull will understand. 
 ABOUT THE AUTHOR:  My name is Noah Albrecht. I am 35 years old. I'm originally from Michigan, and I moved to Colorado nine years ago to enjoy all the mountains had to offer. My dad fueled my passion for hunting and fishing at a young age, and my passion has intensified ever since. 
GEAR LIST:
Bow: Mathews Z2
Arrows: Easton Axis FMJ
Broadheads: Rage Hypodermic +P 125gr.
Rest: QAD
Release: Carter Like Mike
Binoculars (brand, specifics): Vortex Viper HD 10×42
Boots: Salomon Quest 4D GTX
Pack(s): Kifaru Reckoning
Rangefinder: Bushnell 
Knife: Tyto 1.1
GPS: Garmin eTrex 30 and onXmaps
Would you like to be signed up for the EBJ Extra mail list? CLICK HERE!